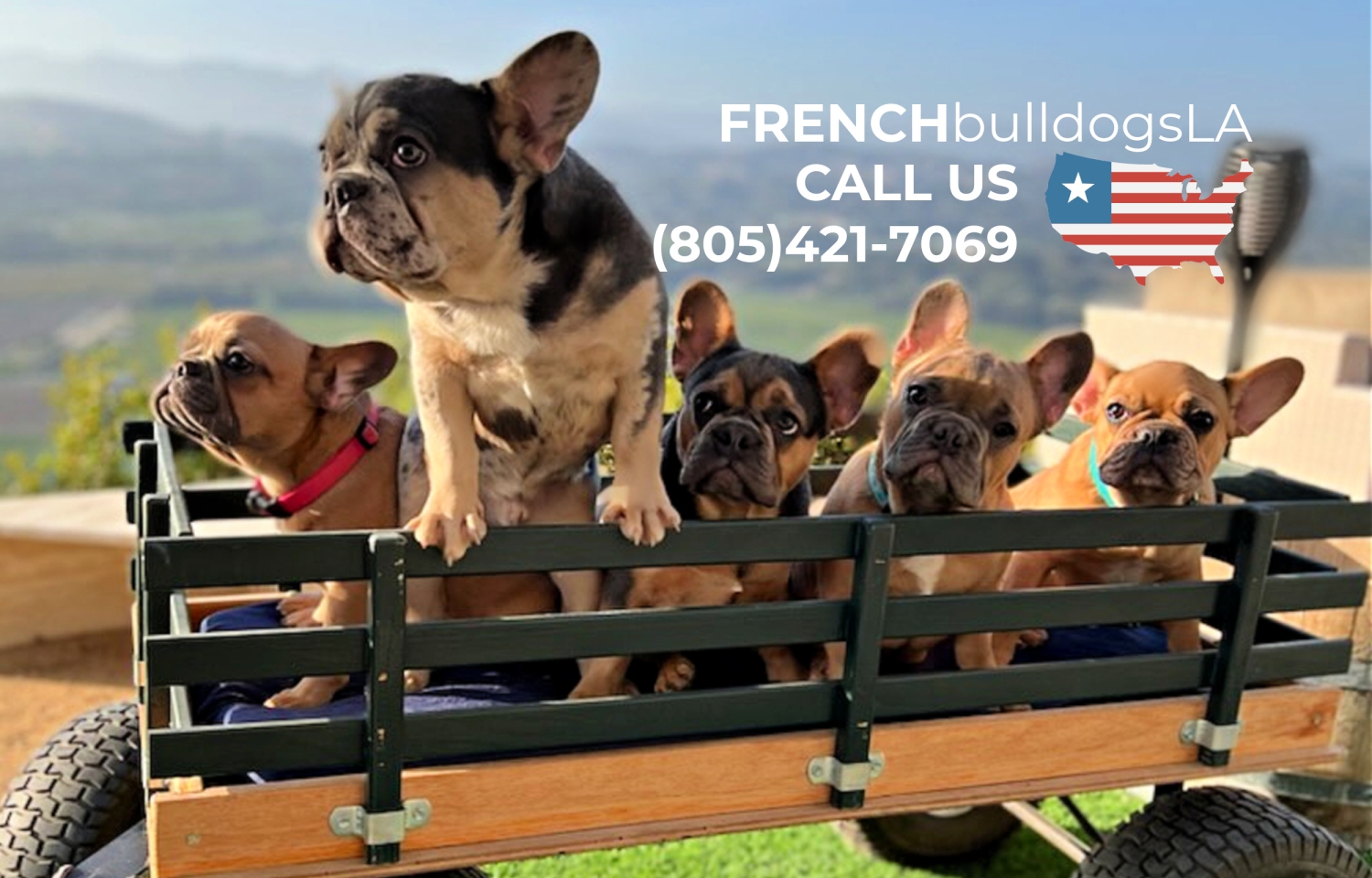 We value good communication BEFORE and AFTER you bring home your new furry LOVE BUG!
We can VIDEO CHAT and introduce ourselves.
French Bulldog Puppies for Sale
Call, Text, FaceTime or WhatsApp 
(805) 421-7069
❤️
Do You Love French Bulldog Puppies Too?
This breed is LIKE NO OTHER.
We are a FRENCH BULLDOG BREEDER rooted in Ojai, CA and our new Studio City, CA location.
We are a family passionate about French Bulldogs and their Puppies
French Bulldogs LA is a French bulldog breeder and our offices are located in Studio City, CA, the heart of Los Angeles County in Southern California. We aspire to kennel our dogs in the wilderness with property to run on freedom that comes only in nature, hence our dogs are on a farm in Ojai, California. Recently family members have gotten passionate too about this breed and we have other locations. We pride ourselves in a high standard of breeding ethics that produce French Bulldog Puppies for sale periodically throughout the year. French Bulldogs LA  is our company name (trademark) and we have been in business for over 22 years and have an A+ Rating with the Better Business Bureau.  French Bulldogs LA is adept with Video Calling on FaceTime or  Skype,  you name it,  to bring our puppies first into your home without a drive.  However we do urge you to meet all of our dogs in our home for a well-rounded experience in our original kennel.  You will meet there our original European French Bulldogs with amazing structure, submissive natures and those french bulldog friendly personalities that make any stranger feel welcome in our home.
My doctorate,PhD, is in clinical psychology but I furthered my degrees in animal behavioral psychology where I then also got myself certified as a dog trainer. Although I don't advertise this skill I freely offer it to my clients and enjoy teaching my clients how to better teach their dogs. As a clinical psychologist I advocate for emotional support animals and psychiatric service dogs. As a clinical psychologist I have many patients that benefit from my experience here. This breed is particularly good in this capacity as they are so social and not at all skittish and extremely cuddly.
The french bulldog is probably about the most SOCIAL dog in existence.  They are great with kids and other alpha dogs.  We won't release our pups until FULLY VACCINATED  and SAFE for the dog park. All throughout COVID we have had visitors because a stroll in our 2 acre yard made social distancing simple. Many people love to make a day of it. Would  you?  Call us or text us at 805-421-7069 or speak with Dr. Marika directly at 310-666-7840.
Take a look at our available french bulldog puppies for sale here and visit this page if you're looking for blue frenchies for sale.
Meet Us On Social!
Check out all our Videos and Posts about our beautiful puppies!
CLICK THIS LINK TO KNOW WHY the range is
$3000 and up!
Here is how it works:  We don't take a deposit from just anyone.  You can't buy yourself a puppy just buy putting money down.  Either we meet face to face or we use facetime for buyers too far away to visit and only after meeting will we consider a deposit to HOLD A PUP FOR YOU. This decision is not made lightly by us or by you.  There is no changing your mind after committing to your puppy.  Typically the day comes when the litter is ready to go.  Only then do people come and meet and greet the pups, or via FACETIME, and only then can you decide to choose a puppy of the current litter only.  Sometimes people are not ready or the color they prefer is not available.  By having made the effort to meet me this puts you in a way to the front of the line.   If you are a good communicator you can then be first to choose a pup from the next litter. If you do give a DEPOSIT, it is NON REFUNDABLE.  It can be transferable to another puppy under special unforeseen circumstances (IE; sudden illness) but NEVER REFUNDABLE.  We are telling other buyers from this point that the puppy you chose is not available. NO ONE ELSE can buy the puppy you have put a deposit on.  In rare cases a person will need to decide to change gender due to temperament incompatibility with another dog and then the deposit could be transferable upon my choosing. DON'T MAKE THE DECISION to buy a puppy lightly please.  Again, YOUR DEPOSIT IS NON REFUNDABLE.
How To Buy A Puppy
Facetime, Call or Text 805-421-7069.  Come visit our Puppy Palace in person (by appointment). Screenshot your favorite puppy and text us for more info. Put a deposit and pick up within the week or take your baby home same day. If you are out of state, we can help you acquire everything you need to fly home with your new puppy.
Breeding Program
We are passionate about temperament and health.  We socialize our puppies for up to 16 weeks. Pups are fully vaccinated when leaving.
My Dogs Are Family
Our Dogs are our Family. We sleep with them. We don't crate. Pups are socialized in this same way. The parents of the puppies are our like our children.
What is the HISTORY behind the FRENCH BULLDOG?
Is it part English Bulldog, or Pug or some Terrier?
The French bulldog breed is often nicknamed a FRENCHIE. The history of the French Bulldog's development is a bit unclear, mainly because of poor record-keeping. We do understand some basics: in the 1800s, Normandy immigrants, specifically lace workers from Northern France, brought these dogs to England. These dogs were first found in the farming regions of Northern France and became very popular in France when the lace workers moved there. The French Bulldog, known for its small size, stood out among other larger breeds. It became well-loved for its friendly, loyal nature.
Regarding the breed's origins, it's commonly believed that Terriers and Pugs played a significant role. As time went on, it's also thought that the English Bulldog may have contributed to the breed. However, the precise influence of the English Bulldog and how much it has shaped the French Bulldog's genetic makeup is still puzzling.
The most VOLITILE BREED for SIZE in all the world!
Variance in weight can be from 15-40 pounds!
This dog is active in sports which I might compare to a quarter horse. They envy a walk if possible 10 times a day, but that walk will only be bigger us for maybe 5 to 10 minutes. Preferably, choose a muscular dog. Occasionally, you might see less muscular ones due to rare genetic variations, such as those seen in terriers. Since this breed has been heavily influenced by human breeding, the physical traits vary significantly. These differences in physical traits also affect the price. Despite meeting optimal breed specifications, these dogs often seem heavier than they appear. This is because they have a dense bone structure for their size. Their erect ears are a distinguishing feature, a trademark of the breed. In appearance, their faces blend features of a pug and an English bulldog. The ears can be extremely large to medium making them appear like little bunny rabbits when they're young. The French bulldog can wait any were literally from 15 to 40 pounds but the breed average is from 22 to 28 pounds and standing about 1 foot tall. A fun aspect of the breed is a tremendous variation in color unlike other breeds that are more consistent. This Breed spends everything from white to Brindle to fun with spots and without and in varying shades in almost every color of the rainbow. Fad colors in French Bulldogs include chocolate, black, blue, and tricolor. Traditional breeders and clubs, such as the French Bulldogs LA and American Kennel Club (AKC), have long disapproved of these colors. The concern stems from the inbreeding necessary to produce these hues. However, we are optimistic that ethical breeding practices and patience will gradually change this perception. According to the AKC, 'brindle' refers to a range of shades from dark coffee to coffee with cream, and these coats should always have golden hair sprinkles. It's important to note that the standard eye color is dark brown. Variations often result from fad colors, historically linked to in-line breeding. This method tends to amplify recessive traits, leading to the reproduction of similar eye colors. Such practices have been traditionally frowned upon, but we hope to see a shift in attitudes in the near future.
The BEST LAP DOG ever!
Your French Bulldog MUST SLEEP WITH YOU.
Frenchies are bred to be a "non-working class dog". This means exactly that, it will not work for you but rather be a great companion happy to sit all day at your feet or on your lap. Although it's temperament is more like a big dog, it is not delicate in its ways it all. It is still small enough to be carried around or brought on board a plane. It loves walks albeit short ones and is sensitive to the heat so in the summertime I walk them only at night or early mornings. They cannot swim as easily as other breeds and need to be worked with in the beginning with the lifejacket as a puppy so that it can learn to swim. If you wait until they're fully grown to teach them to swim it will be much more difficult due to their heavy body mass. In the meantime if you don't have a pool though they love waiting in a kiddie swimming pool. They are not "yappy" dogs but speak when they need to. On occasion, some may howl like a coyote or periodically an actual true bark. But these are more rare instances.
The FRENCH BULLDOG is the most FRIENDLY DOG EVER!
They love EVERYONE, to a fault, even a thief!!
French Bulldogs "Frenchies" are very happy dogs, always greeting the people in their life with body wiggles and jumps of joy. They would be a fun addition to any household, lighting up the room with their smile. Yes, they seem to smile! They are very social with all people never acting skittish, in fact the first to greet you. They behave well off the leash and it would be a common sight to see an owner walking a busy street with their dog freely at their side for they are very obedient and easy to train. They often snore though, so know this trait is common. That's the price you might pay for that pushed in nose that we all seem to gravitate towards. Many doggy daycares will tell you the French bulldog is the boss dog of the pack. This may often be so but more and more French bulldogs are submissive. In fact, I, as a breeder, am breeding for this quality so as never to have a dog that you have to worry about fighting with another dog. Note that French Bulldogs do not drool unless extremely emotional and perhaps there is a dog in heat nearby otherwise primarily a dry mouth.