French Bulldogs Los Angeles
 "Whomever said that money can't buy happiness forgot about little puppies." 
  This site was last updated: December 10, 2015 at 11:11 pm
We can SKYPE or FACETIME
READY THIS  WEEKEND!
5  PUPS
These FOUR (3 boys and a Girl)  in the picture and the BRINDLE GIRL in the VIDEO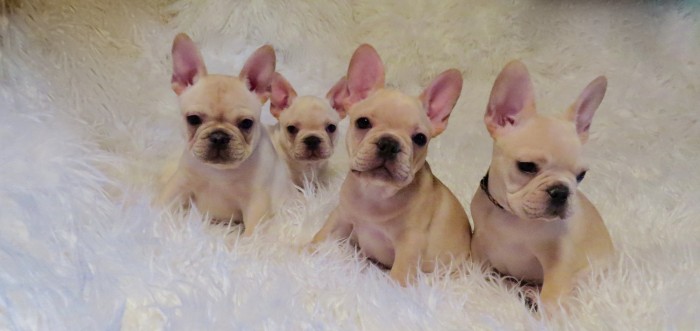 BRINDLE GIRL IN VIDEO BELOW STILL AVAILABLE
READY NOW!!
CALL FOR PRICING
Click on IMAGE to ENLARGE
Click Link HERE TO DROPBOX FOR MORE IMAGES
OUR KENNEL ENVIRONMENT
Our Dogs are HEALTH TESTED for GENETIC Health Issues
FOR MORE PICTURES AND
VIDEO

click THIS banner
 
French BullDogs LA is a French Bulldog Breeder located just outside Los Angeles in the Ojai Valley of Ventura County in Southern Calfornia. We pride ourselves in a high standard of breeding ethics that produces French Bulldog Puppies for Sale periodically throughout the year. French Bulldogs Los Angeles is our company name as once upon a time we started in Los Angeles. We aspired to kennel our dogs in the wilderness with property to run on and freedom that comes only in nature, hence we settled finally in Ojai, CA. French Bulldogs Los Angeles is addept with video, Facefime, Skype, Tango, you name it, to bring our puppies first into your home without a drive. However we do urge you to meet all of our 5 dogs in our home for a well rounded experience of our kennel. Call us 805-876-5000.
VIDEO of some of our PAST PUPPIES for Sale
Click  on the Image to PLAY
The French BullDog Breed is 0ften nicknamed a "Frenchie" , has little noted in the development of it's history. No one knows exactly how the French bulldog came into being because very poor records were kept.   We know the most basic facts such as  that there were Normandy immigrants coming from France to England that brought these dogs with them around the 1800s. Those immigrants were lace workers that had been living in the farming communities of northern France which is where they were initially discovered.  But when those lace workers moved to France they brought the dogs with them and had a tremendous reception of the French people because of their petite size versus they're extremely strong almost big dog presence that is easily social  and loyal with everybody and never disliking anyone. Because of the poor records that were kept it's pretty much presumed that it is terriers and pugs that were the main contributors to the development of this breed however as time has past we've extended our opinion to the breeding to have also probably included the English bulldog,  but to which extent and how much of whose gene pool has become a part of this dog we can never know for sure.
_______________________________________
This dog  is active in spurts which I might compare to a quarter horse. They envy a walk, if possible, 10 times a day, but that Walk will only be vigorous for maybe 5 to 10 minutes. It should preferably be a muscular dog and any that you see that are not so might be a result of occasional "throw back genes", such as a terrier, since this breed is so man made the parameters are big. This difference determines the differences in pricing that you will see.  Regardless of optimal specification they always weigh heavier on the scale then that they look because their bone structure is dense for their size. Their bat like ears that stand to attention,  have become their trademark and their faces are somewhere between a Pug and an English bulldog. The ears can be extremely large to medium making them appear like little bunny rabbits when they're young. The French Bulldog can weigh anywhere, literally, from 15 to 40 pounds but the breed average is from 22 to 28 pounds and standing about 1 foot tall. A fun aspect of the breed is a tremendous variation in color unlike other breeds that are more consistent. This breed spans everything from White to Brindle to Fawn with spots and without and in varying shades  in almost every color of the rainbow.  FAD colors are including Chocolate, Black and Blue, and Tri-Color and these are frowned upon by classical breeders and Registries and French Bulldog Clubs of America.   Brindle is the AKC definition of Black but that color alone varies as much as black coffee to coffee with creme and should always include sprinkles of golden hairs. Note that eyes are meant to be dark brown and variation of this are due to FAD COLORS which are most often reproduced with inline breeding that exacerbates recessive traits and can produce light colored eyes, again frowned upon by classical/traditional breeders.
FRENCHIES are bread to be a "non working class dog". This means exactly that, it will not work for you but rather be a great companion happy to sit all day at  your feet or on your lap.  Although its temperament is more like a big dog, it is not delicate in its ways at all. It  is still small enough to be carried around or brought on board a plane. It loves walks albeit short ones and is senstive to the heat so in summer times walk only at nights or early mornings. They cannot swim but yet they love wading in a kitty swimming pool. they are not "yappy dogs" but speak when they need hearing with a howl like a coyote or periodically an actual true bark.
FRENCH BULLDOGS are very happy dogs, always greeting the people in their life with body wiggles and jumps of joy.  They would be a fun addition to any household, lighting up the room with their smile. Yes, they seem to smile!   They are very social with all people, never acting skittish,  in fact the first to greet you.  They behave well off a leash and it would  be a common site to see an owner walking a busy street with this dog freely at his side for they are very obedient and easy to train. They often snore though, so know this trait is common.   That's the price you might pay for that pushed in nose that we all seem to gravitate towards. Many doggie day cares will tell you the French Bulldog is the "boss" dog of the pack. This may often be so, but more and more French Bulldogs are submissive. In fact, I, as a breeder,  am breeding for this quality so as never to have a dog that you have to worry about  fighting with another dog. Note that French Bulldogs DO NOT drool.

(with exception a breeding male dog that has a female in heat near by).